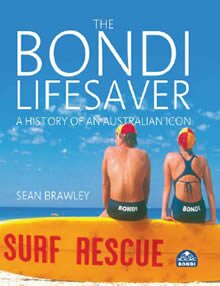 The Bondi Lifesaver
A History of an Australian Icon
Book Details

Sean Brawley
$32.95
Order this book.
In February 2007 the Bondi Surf Bathers' Life Saving Club (SBLSC) celebrated its centenary. The story of the foundation club of unique Australian humanitarian movement and its lifesavers is that of surf life saving. The surf reel, organised patrols, red and yellow patrol caps, bathing area flags and the form of interclub competition, which are all part of Australian beach culture, were first seen on the sands in front of this famous club.
The history of Bondi's surf lifesavers is also the story of Australia's most famous beach and the community that surrounds it. For 101 summers members of Bondi SBLSC have volunteered to protect the surfing public. The Bondi Lifesaver explores the interactions between the 'Playground of the Pacific' and its 'bronzed lifesavers' and finds that both were always and inevitably tied to the fate of the other.
Based on extensive archival research and written by one of Australia's leading historians of surf lifesaving, this lavishly illustrated book is a 'must read' from 2007, the Year of the Surf Lifesaver.