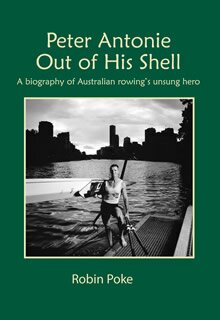 Peter Antonie: Out of His Shell
A Biography of Australian Rowing's Unsung Hero
Book Details

Robin Poke
Foreword by John Coates AC
Walla Walla Press 2007
ISBN-13 978-1-876718-03-9
$39.95
Order this book.
A journalist noted that Peter Antonie is 'truly one of the greatest sportsmen Australia has produced, yet only a few people know who he is… (but) those who know (rowing) regard him as one of the greats, up there with… Bobby Pearce and Merv Wood'.
Antonie represented his country from 1977 to 1996, winning one gold, two silver and a bronze world championship medals as well as Commonwealth gold in lightweight events before switching to 'open' sculling ranks in order to compete at the Olympics. Despite being at a considerable disadvantage in terms of both weight and height he won bronze at the 1990 world championships and competed in three Olympics winning gold in 1992 when paired with Stephen Hawkins in the double sculls. Peter Antonie is the only Australian to receive the highest honour in rowing; the Thomas Keller Medal, awarded by the world body, FISA 'to recognise an exceptional rowing career'.
Author
Robin Poke was a coxswain who rowed in the Henley Royal Regatta before migrating to Australia in 1969, He was a member of the successful lightweight squad at Mosman Rowing Club and was twice manager of the NSW state squad. Poke founded a national magazine, Australian Rowing, and was also manager of Australian teams at the 1978 and 1988 World Championships. His long association with rowing provides him with a deep insight into the sport's history and traditions.