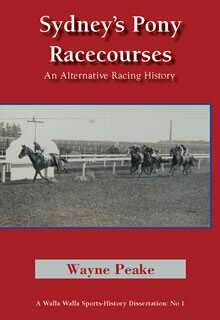 Dissertation Series
Walla Walla Press, in keeping with its mission to publish original research in sports history, has introduced a series of Sports History Dissertations to make small print runs of outstanding doctoral theses available to a wider audience.
Sydney's Pony Racecourses
An Alternative Racing History
Book Details

Wayne Peake
Paperback, 240 pp.
Walla Walla Press Sports History Dissertation No. 1, 2006
ISBN-10 1-876718-02-1
ISBN-13 978-1-876718-02-2
$39.95
Order this book.
Contrary to the name of the sport, which may evoke memories of children riding Shetland ponies at agricultural shows, most pony races were contested by fully-grown thoroughbreds. Many writers have perpetuated myths about pony racing depicting the sport as a rough-and-ready, corrupt form of weekday racing, featuring midget horses on miniature racecourses, run during the Great Depression. It has been suggested that pony racing appealed to desperate, the 'needy and greedy' elements of the working class only.
Sydney's Pony Racecourses demonstrates that such assertions are without basis. The sport was one of the country's biggest industries with the prize money for its cup-races matching the Cox Plate. Some of its Sydney racecourses were rated second only to Randwick, and that for a time it was more popular on Saturdays than Australian Jockey Club racing. The four pony racecourses between the city and Botany Bay were an integral part of Sydney life during the first half of the 20th century.
Existing histories of horse racing fail to acknowledge the contemporary importance and popularity of pony racing. This alternative history of horseracing enables pony racing to claim [its] fair share in the past.
Author
Born in Sydney in 1960, Wayne Peake's earliest memories are of Light Fingers winning the 1965 Melbourne Cup. Fired by his grandfather's winning streak on the racehorse Tails in the Spring of 1969, he became addicted to the sport and soon after became a fixture at Sydney's racecourses on Saturdays (and Wednesdays as well when he could sneak away from school sport). By his own (possibly unreliable) reckoning he was a successful racecourse gambler until about the time he met his future wife.
Peake is a graduate of the University of Sydney and recently completed a doctoral thesis on pony racing at the University of Western Sydney. He has written on horse racing and harness racing, and was a writer and editor on the official report of the Sydney 2000 Olympic Games. He is a research administrator at the Institute for International Studies, University of Technology, Sydney.