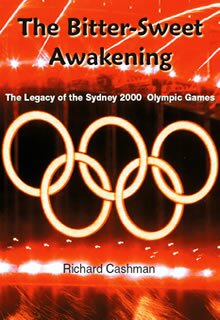 The Bitter-Sweet Awakening
The Legacy of the Sydney 2000 Olympic Games
Book Details

Richard Cashman
Hardback, Illustrations, Notes, Bibliography
Walla Walla Press

2006

ISBN 1 876718 90 0
$49.95
Published in conjunction with the Australian Centre for Olympic Studies, UTS
Order this book.
You can also purchase, as .pdf files, individual chapters of The Bitter-Sweet Awakening: The Legacy of the Sydney 2000 Olympic Games for $10 each, or the entire book for $50, through secure PayPal.
Has the reputation of the Sydney Olympic and Paralympic Games been sustained? Have the long-term impacts of the Games been positive or negative? Have the promised benefits to the host community been realised?
There has been increasing recognition of the importance of the impacts of mega sporting events and in 2001 the International Olympic Committee initiated its Olympic Games Global Impact Project. The Bitter-Sweet Awakening is the first book of its kind, a broad-ranging analysis of the impacts of one particular Olympic and Paralympic Games.
Chapters
When Carnival is Over
Memory
Media, identity and culture
Economic outcomes
International dimensions
The future of Sydney Olympic Park
Sport
Environment
Community impacts
Paralympic Games
A Continuing Legacy