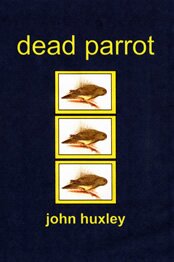 Dead Parrot
Book Details

John Huxley
Paperback, 272 pp.
Walla Walla Press
ISBN 1 876718 66 8
$30.00
Order this book.
When the semi-naked body of a TV wildlife documentary-maker is discovered on a notorious Sydney beach by a group of early-morning birdwatchers, it looks very much like the result of a drowning accident. That, or a freak flying accident, given the way the body seems to have speared head-first into the sand.
But forensic tests soon reveal that Philip Clarkson – 'The Birdman', as he was known to his adoring public – was brutally bashed about the head and then buried alive. Despite the massive publicity and police effort thrown at the high-profile case, all appeals for witnesses and searches for a murder weapon – indeed, any other clue – draw a blank.
Two of Sydney's top detectives, the improbably-paired DI Palmeira and DC Danniher, are just beginning to believe that the murder was random and, worse, possibly even motiveless, when disturbing details emerge of the private life of Clarkson. They reveal a man almost unrecognisable from his public image.
Inexorably, Palmeira and Danniher are drawn into the dirty deals of property development, the even dirtier politics of local government and the seemingly genteel world of bird-watchers. To their surprise, they find not just ardent, generous enthusiasts, but people with precious reputations, professional jealousies and passions that can still be aroused by long-ago rows over the existence of elusive birds, such as Australia's most mysterious bird, the night parrot.
But what could an elusive – maybe even extinct – bird possibly have to do with the death of a man on a Sydney suburban beach?
Some Review Comments
'A wonderful read filled with eccentric birders and gentle humour' Daily Telegraph
'The bizarre world of competitive birdwatching makes for a singular murder mystery' Age
'An engaging and readable debut' Sydney Morning Herald
'A good example of the crime genre ... recommended to birders and non–birders alike' Sunday Tasmanian
'A pacy whodunit.. a fun book, entertainingly written and easy to read' Wingspan
'Murder and skulduggery in the quiet world of birdwatching? You bet!' Sun Herald
'You'll never think the same about birdwatchers again' ABC Radio National
John Huxley was born in Birmingham, England, and worked as a senior editor on The Times and Sunday Times in London before moving to Australia in 1986. He is now associate editor of the Sydney Morning Herald. He has written and contributed to several books on subjects ranging from the British oil industry to the Australian cricket team. Dead Parrot is his first venture into fiction. An avid birdwatcher, he has written several articles about birds, and is the author of a forthcoming article in Good Weekend magazine about the search for the real night parrot.
Proceeds from Dead Parrot will go to Birds Australia.
Please note that because of the small print run the cost will now be $30.00