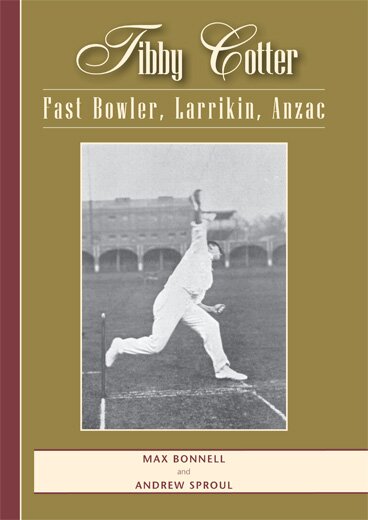 TIBBY COTTER: FAST BOWLER, LARRIKIN, ANZAC
Max Bonnell and Andrew Sproul

Winner of the Australian Cricket Society Literary Award for 2011–12

148 pages
Hardback and epublication • Statistical Appendices • Notes • Index
Walla Walla Press, Sydney, April 2012
ISBN: 978-1-876718-12-1
$34.95

Order this book.
Tibby Cotter was a pioneer fast bowler being the first to bowl bouncers frequently in an intimidatory fashion and to employ a packed slips field. He was an unlikely innovator in that he was a carefree cricketer who disliked practice. He was a dashing tail-order batsman with entertained crowds with his slogging.
Cotter was an uncomplicated man, an undisciplined larrikin, who had his share of brushes with officialdom and the law.
He served at Gallipoli and Beersheba as a stretcher-bearer and was the only Australian Test cricketer killed in the First World War. Although he was a simple man, there were many contradictions about Cotter including the mystery of his death.
Book chapters
• 1 Introduction • 2 Beginnings • 3 Glebe cricketer • 4 First-class and Test cricketer • 5 1905 tour • 6 Technique of a Fast bowler • 7 Batsman • 8 Rugby player • 9 Cricket politics •10 1909 tour • 11 The cricketer off the field • 12 South Africans in Australia • 13 Enlistment • 14 Mysterious death at Beersheba • 15 After the war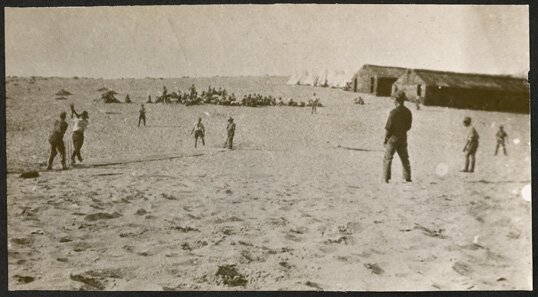 FAST BOWLER, LARRIKIN, ANZAC
"Tibby Cotter's Australian story needs telling. Max Bonnell and Andrew Sproul do
it justice with impeccable research brought to life in a lively and engaging style.
'A gem of a book'."
WARICK FRANKS (Former Editor Australian Wisden)